Description
A fully handmade kilt is the traditional way of making a kilt. It's a master craft and a process that has been passed down through kiltmakers for centuries. Handmade kilts don't have the uniform stitching that machine made kilts often have. However, it is a personal preference and some people prefer the clean lines of a machine kilt whereas others choose a handmade kilt because they want a bespoke crafted garment using Scottish techniques passed down through the centuries. A handmade kilt is an item that people generally only buy once in their lifetime and it is often handed down in families gathering its own history and heritage throughout its lifetime. A handmade kilt is also more easily undone and remade to accommodate a new owner or a change in measurements. This is not possible with machine kilts. The downside however is that handmade kilts are the more expensive choice as it can take up to 3 days for kiltmaker to craft the garment.
Materials: 100% pure wool medium weight tartan, leather fastenings.
Care Guide
Specialist Dry Cleaning Only
(don't ever try to wash it yourself!)
Measurement Guide
Share
View full details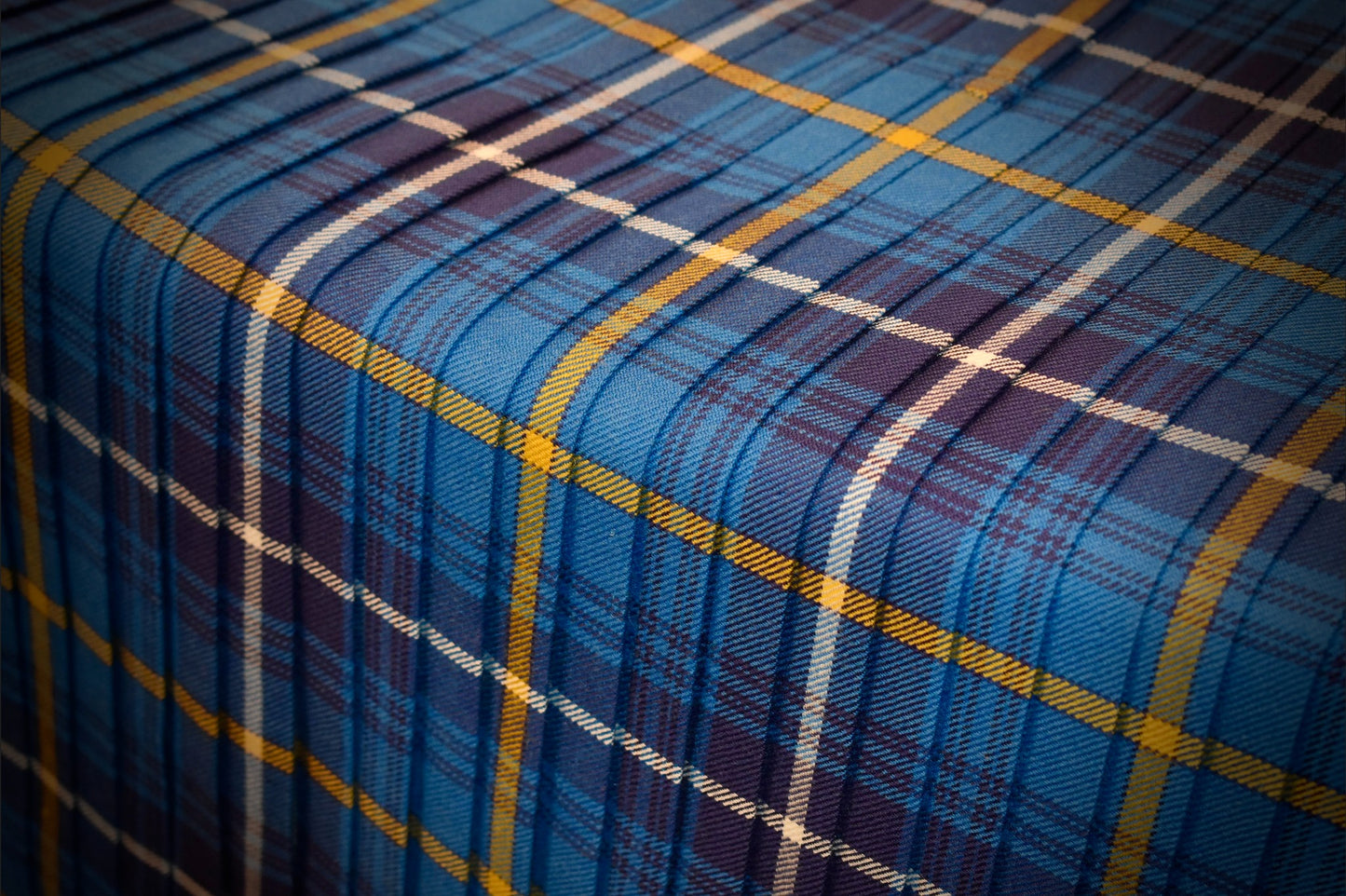 Measurement Guide
At International Tartans we recommend that you get professionally measured for your kilt and we try to reach as many of our customers as we conceivably can. However, we recognize that this is not always possible. Our step-by-step guide will help you provide us with accurate measurements to make sure your kilt is perfectly tailored to you. We recommend that you get someone to help you take the measurements.
So, get ready.
Stand up straight, shoulders back and relax.
Using a tape measure for your body, wrap it round your natural waist (this should be around the naval). This needs to be measured relatively snugly. A kilt sits higher than trousers so this measurement will likely be a little wider than your trouser measurement. No breathing in!
Using a tape measure again, we are going to measure your seat. This is the widest part of your hips. This will make sure your third buckle is perfectly aligned and that you have the best possible swing on your kilt. That's what makes a kilt stand out on the wearer – the swing.
Stand with your feet together and look directly forward. Do not look down or bend your knees. Measure from the navel to just over the top of the kneecap for the length. Your kilt will just overlap the top of your knee at the front and sit in the crease of the back of your knee.
Please also give us your height and that'll reassure us that your other measurements are correct.
Finally, do it twice to make sure. We want you to have an impeccable made-to-measure kilt.